Fire alarm installation
prices from
Order online

Next-day service
Fire alarm systems are an absolute life saver. Any commercial property, public building or domestic residence should be fitted with a fire alarm to ensure the safety of anyone inside or nearby. Our fire alarm installation service can help you stay both compliant with the law, and safe.
Fire alarms save lives
Fire alarms are crucial to safety, and every household, business and public building needs one. Those fire drills at work that send everyone outside into the cold might be a nuisance, but that doesn't mean they're not important! A fire alarm will detect a fire if one breaks out, and alert everyone nearby in time for a safe exit of the building. Undoubtedly, fire alarms have saved many lives since their use became widespread, and enforced by law.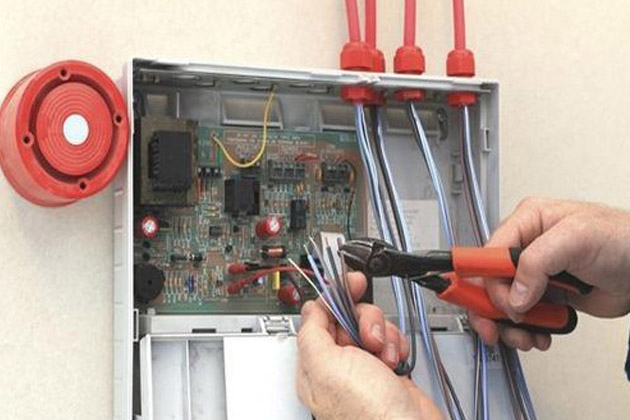 Are fire alarms a legal requirement?
The UK has had comprehensive fire safety legislation for a long time now, and it gives clear guidance on what is necessary for properties to be compliant. The vast majority of businesses are legally required to have fully operational, fit-for-purpose fire alarm system installed. Only very small and simple businesses are not required to have a comprehensive fire alarm system installed. Of course, the consequences of not having proper fire safety systems in place can be catastrophic, so the law is very strict with compliance. Any offenders who are in breach of fire safety laws can expect a hefty fine at the very least.
Types of fire alarm systems
There are a few different types of fire alarm installations. The system that's right for you will depend on your circumstances, including what type of business or building you have. We'll give you expert advice on what kind of system is right for you, but you can read about some of the most common ones below.
Conventional fire alarm system
This is the traditional fire alarm system, and is reliable with a low installation cost. This system won't be able to tell you exactly where the fire is, but a cleverly wired system can divide your premises into zones, giving you an idea of where is safe and where isn't. The system is widely used still, but is probably best suited to small businesses, and operating out of small premises.
Wireless fire alarm system
Wireless systems do have a significant advantage over conventional systems. They don't use any cables, and installation is easier, with no mess, no drilling and, ultimately, less inconvenience for you. Wireless systems are now a very popular option, partly because of the ease of installation, but also because they just look neater and more discrete. They don't intrude upon the environment in which they are housed. If you run a restaurant or luxury shop, a wireless fire alarm system will definitely suit your needs better than a conventional system.
Addressable fire alarm system
An addressable fire alarm system is the most sophisticated of the bunch. Each device that's connected to the system has its own 'address', so you can identify exactly where the fire is located. This is why it's known as an addressable system. Being able to locate a fire is obviously a big plus, and might enable the fire to be put out before it becomes more dangerous. These systems are more expensive that their counterparts, but the advantages are clear. Addressable systems are much more suited to large or complex buildings.
Our fire alarm installation service
Fire alarm systems are clearly very important, so we're proud to offer a fire alarm installation service that is fast and effective. We're well versed in the installation of each of these major fire alarm system, and of course we'll always take your specific needs and budget into account when advising you on the perfect system for you. If you think you need a fire alarm system to be installed, just get in touch and we'll give you all the information you need, along with a free quote.
Fire alarm servicing
As well as fire alarm system installations, we also offer fire alarm servicing. This means a comprehensive check and test of your fire alarm system to ensure it's working properly. We can also carry out any repairs, upgrades or changes that are needed. Just as with any of our other services, we'll strive to ensure that our work causes as little disruption as possible. Just get in touch, and we'll be happy to help.