If you have electrical installations in your home or property, there will always be some risk of electrical faults. Electrical faults can be dangerous, and pose a threat to the safety of those who come into contact with them.
If you're concerned by any of the electrical installations in your property, or suspect you may have an electrical fault, then you need an electrical repair service. That's where we come in! Just get in touch, and we'll identify the problem and carry out a fast and efficient electrical repair.
Our comprehensive experience in dealing with all manner of electrical faults over a number of years means we really do know what we're doing. We'll send out a professional, friendly technician to carry out any electrical repairs required, and help you safeguard against electrical faults in the future.
What is an electrical fault?
Just what exactly is an electrical fault, and how can you identify one? Simply put, an electrical fault is an abnormal or dysfunctional condition in any electrical system, which is causing a problem with the normal electrical flow. Most modern electrical systems and devices are built to be fairly reliable, especially at the up-market end of the quality scale. However, when an electrical fault does occur, it can pose a serious risk.
For example, a common electrical fault is a short circuit between the supply and the ground. This can create a fire risk, which is always one of the biggest concerns with electrical equipment. An oversupply of energy could cause overheating in wires and devices, which might lead to combustion. As this demonstrates, it's important to deal with an electrical fault as soon as you find one!
Electrical faults can have a variety of causes, from equipment failure to human error. It can be as simple as somebody accidentally cutting a wire (something that, in our experience, is all too common!). If you notice damaged wires or electrical equipment, or an electrical system playing up, you may well have found a potential electrical fault. Whatever you do find, you should call a professional to carry out electrical repairs. And, of course, the best way to identify electrical faults is to have a professional carry out periodical electrical testing.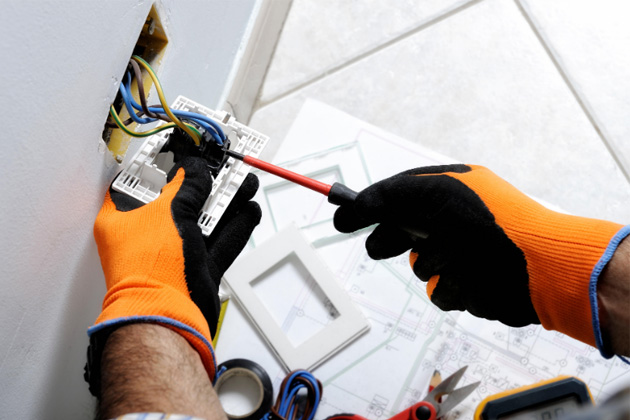 Look out for electrical faults
It's always best to be on the lookout for potential electrical faults and related risks in your home, or any property you're responsible for. If you find anything, please do give us a call. Our professional technicians can discuss the problem wit you, and help you identify any faults. Here are just a few things for you to look out for:
• Wiring faults
• Fuse box arcing
• Regular light bulb failure
• Circuit breaker failure
• RCD nuisance tripping
• Damaged socket points
All of these seemingly simple faults are perfectly common, but can pose a very real danger. If you notice any of the above, we recommend you get in touch and explain the issue. Once we know what has caused the problem, we'll run you through what has happened and how we'll approach the electrical repair. Once you're happy, we'll get started, and make sure we leave your property a safe environment.
From £79 per hour.